Fact Checked
A Guide for Parents
Many parents do not know what to do in case of an emergency. Preparing for an emergency situation is critical in improving the outcome or your child. It could also mean saving your child's life.
In an emergency situation, you cannot afford a minute to stop and search for phone numbers or think of the best route to take towards the hospital. You need to have a plan ahead of time, so you won't waste any single minute. Here are some tips on how parents can prepare for possible emergency situations.
1. Ask your child's doctor which medical facility is recommended in case of an emergency.
The nearest hospital is not necessarily the best option. Take note that children require specialized care and equipment. Not all emergency departments are equipped with pediatric medical instrument and devices. Although most emergency departments have pediatric section, some childhood emergencies are better handled by pediatric hospitals. If there is a nearby children's hospital, then it is the best place to go. In most cases, the paramedics will bring your child to the best-suited health facility.
2. Know the fastest route to the hospital.
In some emergency situations where ambulance is not available, you may need to drive your child to hospital. Be sure to know the route and practice the drive to the facility. You should also know how to get to the hospital from your workplace.
3. Keep your child's medical history easily accessible.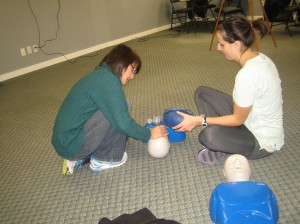 When your child arrives in the hospital or when emergency services respond, they will gather information in order to provide accurate treatment. Keep medical information in the diaper bag or on the refrigerator. Include information about the baby's first and last name, date of birth, relevant medical history, medications taken, immunization record, insurance provider, parents name and mobile phone numbers, and the pediatrician's phone number.
4. Keep a list of emergency phone numbers near the telephone.
The first thing you should do in an emergency situation is to call for help.
Make sure to have the emergency phone numbers available. This list should include:
the local emergency service or 911,
nearest hospital emergency department,
ambulance service, fire and police departments,
the home address and nearest landmark,
the family physician or pediatrician,
two nearby relatives or friends who can be called for help, and
local poison control center.
5. Take a first aid and CPR course.
As parents, you want your kids to be always safe. Taking a first aid and CPR training course is one of the most important safeguards you can take to ensure the health of your child. This simple and easy to learn procedure could actually save your baby's life. In this training, you will learn basic first aid skills such as checking airway, breathing and circulation; providing CPR; basic assessment; and initial actions to take in common emergency situations. Check out available class near you. Contact your local workplace approved chapter for more details.