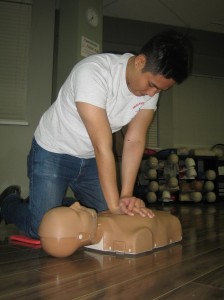 Many people are required to have first aid and/or CPR certification in Hamilton. The most advanced one-day CPR and AED course available is CPR HCP, which is also known as CPR for health care providers. The most popular provider of food-safe, safety, first aid, CPR, and AED courses in Hamilton, Ontario is Hamilton First Aid. The popularity they have is due to their low prices, comfortable training facility, and friendly and knowledgeable staff. By enrolling in comprehensive Ontario WSIB approved standard first aid and CPR HCP training you will learn about topics such as angina, heart attacks, stroke, broken bones, diabetic emergencies, two-person CPR, automated external defibrillators, poisonings, hypothermia, heat stroke, seizures, anaphylaxis, choking and many more. Participants that successfully complete any program receive certification that is valid for 3 years. Scroll through this page to find all available courses or register for first aid, safety, food handling, or CPR HCP course in Hamilton using the contact information provided below.
Use The Following Registration / Contact Information
To register for a course or for more information use the following details:
Website: http://firstaidcprhamilton.ca
Email: [email protected]
Telephone: 1-888-870-7002
Register for a course today. Space is limited.
What Courses Are Available with Hamilton First Aid?
One factor that makes this WSIB-approved provider so popular is the number of courses it offers its customers. Here's a list of popular first aid and CPR programs available:
Standard first aid, CPR, and AED
Standard childcare first aid, CPR and AED
Emergency first aid, CPR and AED
CPR level "A", "C" or "HCP" in a stand-alone format
Basic Life Support (BLS)
Advanced Cardiac Life Support (ACLS)
Paediatric Advanced Life Support (PALS)
Babysitting first aid and CPR
Private Infant CPR Training
The following online safety courses are available:
Workplace Hazardous Material Information System (WHMIS)
Material Safety Data Sheets (MSDS)
Transportation of Dangerous Goods (TDG)
Medical Terminology
Fire Safety
Lockout Tagout
Oxygen administration
The above-mentioned online safety courses can be purchased in bundles at competitive prices.
What Other Services are Available with this Hamilton Provider?
This provider also offers the following services
First-aid attendant rentals
Workplace safety audits
First aid supplies and re-stocking
Private training programs
For more information about these services use the contact information provided above.
What Will I Learn in a Health Care Provider CPR Course?
Participants that enroll in CPR HCP courses in Hamilton will learn about the following:
How to stay safe and use effective barrier devices including bag-valve masks
One and two-person CPR
When and how to use an automated external defibrillator
5 rights of medication
Do not resuscitate orders
Circulatory emergencies including heart attacks and stroke
Management of Conscious and unconscious choking victims
Management of breathing and non-breathing victims
Artificial respiration
Pulse checks
Learn about these topics and more by registering for a CPR HCP course in Hamilton today.
St Mark James Awards
Successful customers who complete a course get workplace-approved certificates which are current for 36 months and may fulfill numerous federal specifications and as well as Ontario WSIB standards.
Take a look at Hamilton First Aid right now to sign up with the leading American Heart Association-approved CPR HCP provider.