CPR for Health Care Providers, Basic and Advanced Life Support
Over 500,000 people die every year in North America from cardiac-related issues. Most die at home or at the workplace. Without first aid and CPR training and the quick implementation of an AED the chances of survival are significantly lower. Taking a CPR HCP (health care provider) course prepares candidates to respond to life-threatening cardiac arrest patients.
Health Care Provider CPR (CPR HCP) is the most advanced CPR course offered by St Mark James and it is a popular program offered through the American Heart Association. It follows the standards set by the International Liaison Committee on Resuscitation (ILCOR).  It is the most comprehensive and detailed CPR course. This course is designed for candidates that are employed in the health care field. Doctors, Nurses, Lifeguards, and paramedics are some of the people that may be required to take this course. CPR HCP also introduces candidates to the use of automated external defibrillators (AED). To register for a course near you visit our CPR "HCP" locations page.
Certification and Manual:
Upon successful completion of the CPR HCP course candidates will receive a certificate that meets workplace requirements and that is nationally recognized and valid for up to 3 years (2 years in the U.S.A.). Upon arrival at the course, candidates will receive a healthcare provider / basic life support CPR manual with the most up-to-date CPR standards.
First Aid Combined with CPR HCP: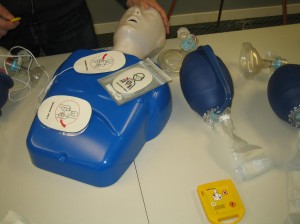 CPR HCP is not only offered in stand-alone CPR courses. Participants enrolling in first aid courses offered through St Mark James or Lifesaving Society will also learn CPR training. Many providers provide candidates with the opportunity to select from a variety of CPR levels when registering for first aid. Standard first aid can include CPR "HCP" and some providers offer participants enrolled in emergency first aid the opportunity to register for CPR level "HCP". Upon successful completion of either first aid course participants will receive a first-aid certificate that states completion in first aid CPR level "HCP" and AED. All first aid certificates issued through major Canadian providers are valid for 3 years, whereas, American providers' certification is valid for 2.
CPR Course length and Content:
The length of a full CPR HCP course is 8 hours. The course curriculum includes an introduction to safety, emergency preparedness, the chain of survival, contacting EMS, implementation of an AED, airway, breathing and circulatory complications, and self-protection.
Combined first aid and CPR HCP courses are significantly longer as they incorporate a large amount of first aid content including patient recognition and providing care.
Health Care Provider Course Cost:
The cost of the CPR full course is approximately 60.00 dollars and the re-certification course is approximately 45.00 dollars. The prices varied depending on your location. We have the cheapest courses in your region and we strive to never cancel a course. To date, our training partners have canceled fewer than 1% of our courses.
Registration, Contacts, and Locations:
We offer a wide range of health care providers and basic life support courses throughout Canada and the U.S.A with a location near you. To register for a course select the location of your choosing from the menu bar or from the side menu bar. Once you have selected your location you can choose the date and time that works for you. If you have any questions or concerns please feel free to ask.