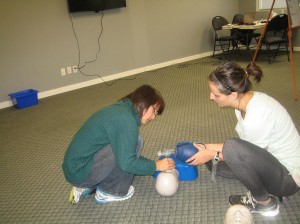 Canadian CPR HCP re-certifications are  courses designed to renew previously awarded CPR HCP certification cards. This course is significantly shorter and cheaper than the original full length course. This course takes approximately 4 to 6 hours and is completed within one day. The course curriculum remains the same but the course content will be taught in a condensed format. The  first aid instructor will have the candidates focus on skills and knowledge on areas that need improvement and will focus on changes to standards.
Pre-requisites for CPR "HCP" Re-Certification Course:
Candidates must have completed a CPR HCP full course or re-certification course within the past 5 years.
Candidates must have completed the course with a credible provider such as St Mark James, Lifesaving Society, Heart and Stroke Foundation or St. Johns Ambulance.
Candidates must have a completed the previous course within Canada. If you have completed the course outside of Canada you must receive approval from Canadian provider (i.e. St Mark James) to attend a re-certification course.
Previous certification must state CPR HCP certification. Candidates can not bring a CPR level "A" or CPR level "C" certificate to a CPR HCP re-certification.
Cost of CPR Course:
The cost of a CPR HCP re-certification varies on location but is approximately 45.00 dollars. Recert fee includes certification fee's through a major Canadian provider and all applicable taxes.
Registration and Location for Canadian CPR HCP Re-Certification Training
We offer CPR HCP recertification throughout Canada at convenient and comfortable locations near you. To register for a course select your location from below, the menu bar or the side menu bar. After selecting your location, to guarantee a spot in the course, fill out the registration form. If you have any questions or concerns please feel free to ask. Register for a CPR "HCP" re-certification course today.