Fact Checked
Because of the fact that CPR is now considered by many legal and medical institutions as a legitimate form of therapy or treatment and not just a simple intervention such as putting on a band aid, the importance of obtaining a consent before performing CPR HCP has become a hot  and confusing topic for all healthcare professionals including first aid rescuers. However, one way to clear the confusion for rescuers is to look at the legal implications of CPR for nurses in hospitals.
For patients who decline CPR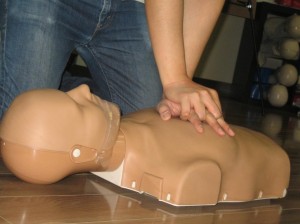 The patient, especially one that is very alert and is of legal age, has every right to decline CPR. In a hospital setting, a patient who declines CPR will be asked to sign a Do Not Resuscitate (DNR) order which means that no healthcare provider should administer any life-saving medical interventions on the patient in case of emergencies. To further define the scope of a DNR order and to avoid any ambiguity, doctors often write a no-CPR order on the patient's chart. This means that nurses can still perform medical interventions which can make the patient more comfortable but are not allowed to administer CPR even during emergencies. This no-CPR order are to be followed by all healthcare professionals including rescuers and EMT's.
For families who want healthcare providers to perform CPR on a patient
If the patient is of legal age and is fully coherent at the time that a no-CPR or DNR order was requested, all healthcare providers are required to refrain from administering CPR and other life-saving medical interventions even if the family members of the patient specifically request for this procedure. In the event that the patient's consciousness or mental alertness declines at a later time, his or her request for a DNR or no-CPR should still be honored regardless of the family's decision or request.
The role of healthcare professionals in DNR and no-CPR orders
Healthcare professionals, including rescuers, still play an important role even if a DNR or no-CPR order is being followed. In CPR HCP, healthcare professionals are expected to use their skills to ensure that the patient stays as comfortable as possible through medical interventions which include proper positioning. They are also expected to document everything, including the patients exact verbal orders and the actions of the doctors and other healthcare professionals after these orders were requested by the patient. Before anything though, rescuers should ensure that the patient is really coherent to make the decision and that the family who should be consulted for further decision-making is identified.